Vita Alexandra Linett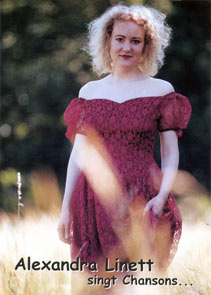 Alexandra Linett, who grew up in Ahrensburg near Hamburg, moved to Berlin to study at university after completing her 'A' Levels in 1987 and has lived there ever since.
She obtained an MA (Master's Degree) in Theatre studies, Psychology and Political Science in 1994 and then completed professional training in singing and acting. Alexandra Linett has since worked as a singing teacher and has appeared as a solo singer of swing jazz as well as German and French chansons.
The volume of narrations "Lovisa" and the novel "Brücke in den Frühling/Bridge into Spring" were written during her student years. The short story "Traumwelt/Dream-World" won First Prize in the Prose category of the literature competition of the Constance Author Days. In her "Abendstern/Evening Star" CD, Alexandra Linett presents her first own chansons.
Press (german)
Click on articles to enlarge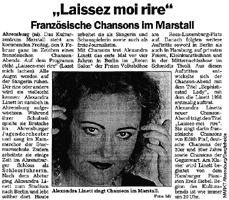 3. Februar 2001
Ahrensburger Markt