Program
You would like to see me perform live as a singer and to hire me for this purpose? Please see my current offers here.
You can book the shows as whole evening stage programs or you can choose individual songs from the program and combine them to create your own show for particular event and desired ambience.
Abendstern/ Evening Star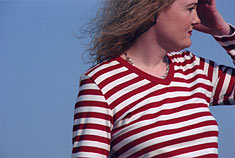 Program with 15 chansons by Alexandra Linett, arranged in a pop-rock style, mainly in German. These are songs about a longing to travel across the sea.
As a suitable accompaniment to the song texts, a menu with cocktail and caviar as the starter, fish as the main dish and apple cake with vanilla as the dessert can be served.
The whole program ist also available on CD. Information about this can be found in the shop.
Audio samples under Media: "Abendstern", "Heißer Sommertag", "Merry-go-round"
Laissez-moi rire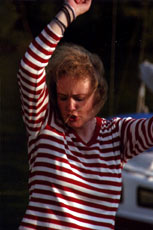 Program with German and French songs, Marlene Dietrich-, Edith Piaf-, Hildegard Knef-Songs.
Among others, titles include:
"Ich bin ja heut' so glücklich"
"La vie en rose"
"Für mich soll's rote Rosen regnen"
Demonstration video under Media: "Milord"
Sophisticated Lady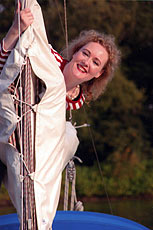 Program with swing jazz and Marilyn Monroe-Songs.
Among others, titles include:
"The man I love"
"A nightingale sang in Berkeley Square"
"Diamond's are a girl's best friend"
Demonstration video under Media: "I'm gonna file my claim"
Photographs on this page to the right of Christian Gottschalk.